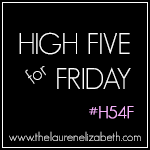 Woo-hoo, we've made it through another week! This was a BIG week in our nest with us surviving our first real road trip, Brother Goose starting kindergarten, and soccer practice in full swing. Our weekend is shaping up to be full with soccer, birthday parties and BBQs. (Hopefully, we'll be able to squeeze in a little preseason football, too! :)
Here are some of the high five moments from our week:
High five for
...unpacking this crazy mess in one day. The day AFTER we got home!
High five for
...my beautiful sunflower! We are getting really excited for seeds!!
High five for
...the official "back to school" photo!
High five for
...thoughtful and unexpected gifts. LOVE my new coffee mug from my aunt.
High five for..."clownin'" around with my Lil' Miss! Love these times with her.
What are you high five'n for this week?
Always ~ Momma Goose