Happy Sunday, friends! Since we are unable to watch the
Broncos
on TV today (
I am, however, glued to my NFL app checking the scores and highlights
), I decided that it would be fun to be a little "social" with my friends over at
Ashley's Carnival Ride
and
A Complete Waste of Makeu
p.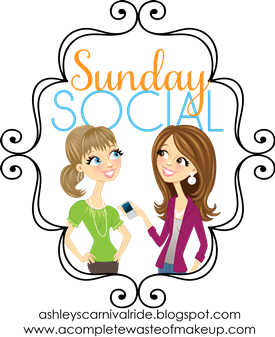 What is something you have wanted to do but are afraid of?
I would love to sky dive or bungy jump, but I am deathly afraid of heights!
Where do you see yourself in 5 years?
I love my life, so hopefully in the life space I am now
Although maybe with one or two more goslings! ;)
What are you looking forward to before
the end of 2012?
Colder weather! Maybe it will be here before 2013.
What are your hopes for your blog?
I am enjoying every minute of writing/blogging, meeting and networking with other great writers/bloggers! I am hoping that it continues to be fun for both you and me as well as maybe even a little helpful for both of us. I am also hoping that it would continue to blossom and grow!
Do you always see yourself living in your current town/city?
I am hoping that we will move somewhere with cooler weather.
Oregon/Washington would be fabulous!
What is your morning routine?
I poke Daddy Goose several times to turn off his alarm and then fall back to sleep for 15 more minutes. Then poke Daddy Goose several more times to turn off his alarm. When we finally get up, I pack lunches, help Brother Goose get dressed, make coffee and eat breakfast with Lil' Miss Goose. After breakfast we usually play for an hour or so before
we get started on our daily chores or other activity for the day.
(All of this assuming it isn't Monday...if it's a Mellow Monday...we do nothing!)
It's your turn to be social. What are some of your answers? I'd love to hear where you'd like to be in 5 years or what your morning routine is!
Always ~ Momma Goose