Around here, we call Sunday, "Sunday Funday." It's usually our day to go to church, the lake, hang with friends and, well...socialize. Which is why, when I found this "Sunday Social" at one of the blogs I follow, I was excited to socialize with other bloggers and make it a part of my Sunday Funday.
Neely from
A Complete Waste of Makeup
and Ashley from
Ashley's Carnival Ride
are our hostesses. Check out my post below and then make sure you visit our hostesses as well as other bloggers that have participated in the social.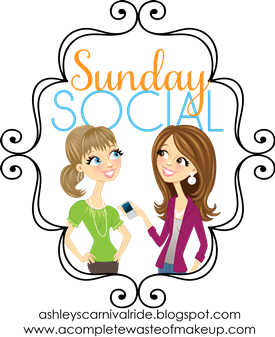 This week's Sunday Social topic is
TV
1.
Favorite TV show of the past
Hands down,#1 favorite TV show from the past, Beverly Hills 90210
Although, I really miss Entourage and Sopranos.
They run a very close tie for second place.
2. Favorite current TV show
Our DVR is full of my favorite current TV shows, but I'd have to say the one that we never get backed logged on is Nurse Jackie.
I am always on pins and needles waiting for the next show.
And...now new season!
Darn you Showtime for having such short seasons!
Daddy Goose and I also really enjoy Parenthood.
We relate really well with several of the characters.
3. Which reality show would you NEVER do?
Even though I love to camp and be outdoors,
I am sure that I would never do well on Survivor.
Still, I need a frequent shower and REAL FOOD
4.Which reality show would you LOVE to do?
Daddy Goose, Brother Goose and I love to watch Wipeout!
It is always entertaining and lifts your spirits after a tough day.
It looks painful, but like a ton of fun.
5. What is the TV personality/character that you feel is most like you?
Well, according to my brother-in-law, I am exactly like Whitney Cummings
from the television show on NBC, Whitney.
Which, by the way, I have absolutely no problems with,
she is pretty,quirky AND hilarious!
6. Which TV character would you want to date?
This question took me the longest to answer. TV men are all very good looking.
You already know that one of my favorite shows is Nurse Jackie,
so I have to go with Peter Facinelli. Not only is his character good looking,
but he's an ER doc, funny and a little air-headed.
Plus, his character is one of my favs in the Twilight saga!
Thank you Neely and Amber! This was a ton of fun and a great way to spend my Sunday Funday!
Momma Goose